United Airlines President Scott Kirby spoke yesterday at the Morgan Stanley 7th Annual Laguna Conference. There probably no one in the industry that's been more 'by the numbers' than Kirby, and in my view no one that's been more an enemy of customer experience. I've often called him a destroyer of airlines.
As President of US Airways he delayed installing internet until 2012 because he didn't believe they could make money selling it to customers. It was only when it became obvious business travelers were choosing not to fly US Airways because they couldn't work inflight – when it finally showed up in the spreadsheets – that a decision was made to move forward with internet.
Under his leadership US Airways started charging for water, and eliminated frequent flyer elite bonuses. He had to walk back both changes. As head of US Airways his airline actually removed seat power from planes to save on costs. He gutted American Airlines meal service in September 2014, moving it closer to his legacy US Airways standard, but had to walk that back, too.
There's no one who has epitomized the belief more than all that matters is schedule and price. He's even suggested United's flights are what matters for customers choosing to get their credit card, not the value of the MileagePlus program.
Kirby Now Says Quality Matters
United Airlines President Scott Kirby told the Morgan Stanley 7th Annual Laguna Conference that "more and more" they have to be "competing on quality instead of just schedule and price."
On the one hand corporate executives speak in platitudes all the time so it's reasonable to dismiss the remark based on the history of Kirby's leadership in the airline industry. On the other hand he's one of the most earnest executives in the industry. He has a track record of saying what he thinks and explaining his reasoning, laying out arguments and trying to persuade analysts to come along.
Scott Kirby Has Been Driving Cuts and Devaluations at United
In the past Kirby has expressed a view about natural share, that flying planes earns them passengers and that product isn't a driver. He's the man that brought us the most restrictive basic economy in the industry (no carry on bag, indeed customers aren't even allowed to check in online when flying basic economy without checked bags). Kirby and sidekick Andrew Nocella are gutting the value of MileagePlus.
Kirby has described his product strategy as 'keeping up with the Joneses', says it 'makes no sense' to give customers more seat width (as Delta does on their Boeing 777s and Airbus A220s),
Under his leadership United has continued to cut from Polaris business class, whether it's cheaper pajamas or meal service cuts and eliminating a flight attendant from the cabin. On domestic flights last year they even tried to eliminate meals on flights under four hours outside of dinner times, but reversed course quickly after a barrage of criticisms.
There are even plans to add even more seats to United's high density domestic Boeing 777s.
Yet There are Also Investments in United Product and Customer Experience
On the other hand they're talking about free wifi (and improving their wifi's abysmal performance). With ConnectionSaver they're holding planes for passengers.
I've visited the Polaris lounges in Newark, Houston, and Chicago O'Hare and they're uniformly excellent. In fact that they're United lounges is somewhat incongruous.
Polaris business class bedding branded by Saks remains the best in the sky.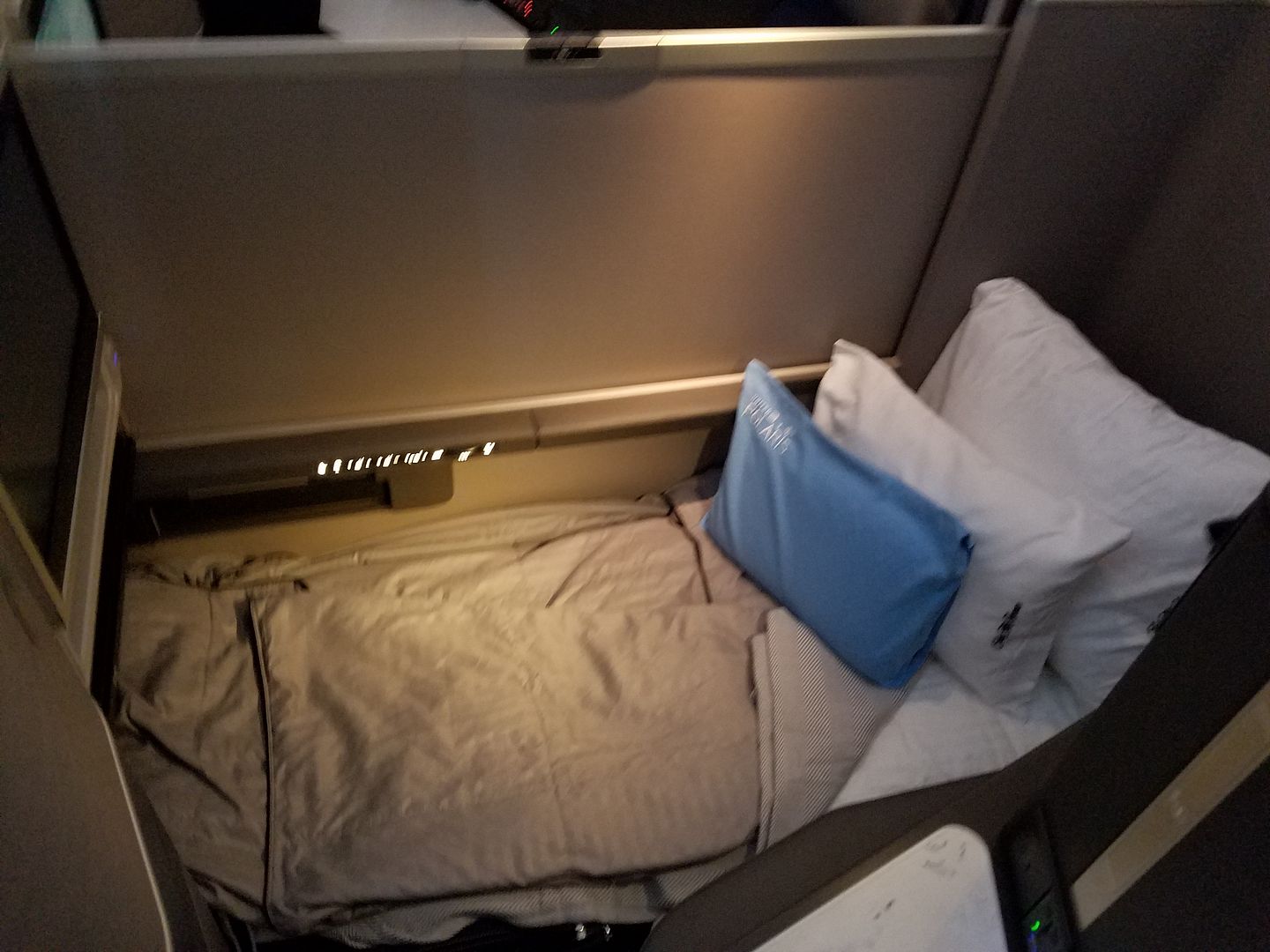 Meanwhile they have an advantage with their Polaris business class seat in that each passenger gets less real estate on the aircraft than a business class passenger on American or Delta. It's an efficient seat and they fit more people into the same space than competitors. Still, they are putting more business class seats in planes than I'd expect even with that space advantage. They're even extending the heavy business class Boeing 767s beyond Newark to Chicago.
Will the Real Scott Kirby Please Stand Up?
I've heard executives that have worked with Kirby joke that if he had his way planes would be so dense that passengers would stand in the back galley in a way on Michael O'Leary would appreciate. Kirby talked at the Morgan Stanley conference about holding down costs.
Yet the airline has made as many investments as they've made cuts over the past couple of years. Products like Polaris lounges certainly predate his tenure, but they haven't been gutted under his leadership either.
Is it possible Kirby's view has shifted to believe that all that used to matter was schedule and price, but now passenger experience matters too? Clearly his view isn't that inflight experience matters for all customers. Not everyone will pay for it. But for premium customers, even as meals come pre-plated in business class with fewer flight attendants in the cabin, he wants to sell more business seats and is putting more of them into planes than competitors and offering them a decent experience on the ground.
As technology develops and better informs customers about the product they're buying customers are finding it easier to buy based on their preferences rather than schedule and price. Perhaps Kirby has seen that trend. For now though the airline appears to be acting somewhat schizophrenically as it adjusts to this new reality.