When I first started flying United regularly in the mid-1990s, all elites had a benefit known as middle seat blocking. When an elite frequent flyer picked a window or aisle seat in coach (in a row that was at least 3-across), the middle seat next to them would be blocked.
That wasn't a guarantee of an empty middle seat. Blocked seats could be assigned at the gate if necessary. On a flight that was mostly full elite frequent flyers wouldn't get a free seat next to them. However, given load factors at the time, this worked out more often than not.
At the end of 2007 Mileage Plus (back when there was a space between the two words) ended this benefit. Before the Great Recession hit planes were getting quite full, and they weren't delivering on it nearly often enough. And needing all those middle seats it was added work at the gate to assign seats. Of course that was right before load factors began to fall as the economy cratered.
The number one thing that determines the experience of a passenger in coach is having an empty seat next to them. The (buy on board) food tastes better. The service seems friendlier. Even delays seem more manageable.
Airlines are planning for less revenue and less capacity. They're expecting to have empty seats even after concern over coronavirus passes. That's a perfect time to make the number one experiential benefit available again to an airline's best customers, on a space-available basis.

Mostly Empty American Airlines Domestic Coach Cabin
There are a number of social norms that may change as a result of the social distancing many of us are practicing at the moment.
Contactless payments could really take off, and become differentiators. Forget chips, who wants to actually touch a key pad?
We might be used to really washing our hands that we keep doing it. Remember when we'd tell ourselves a quick rinse was washing? That was just two weeks ago.
We may not want to be so close to fellow passengers. All of a sudden 10-abreast Boeing 777s and 9-abreast Boeing 787s don't seem like such a great idea, rubbing should-to-shoulder with strangers. And even if we'd rather be three to six feet away from other passengers, don't a few extra inches at least feel better?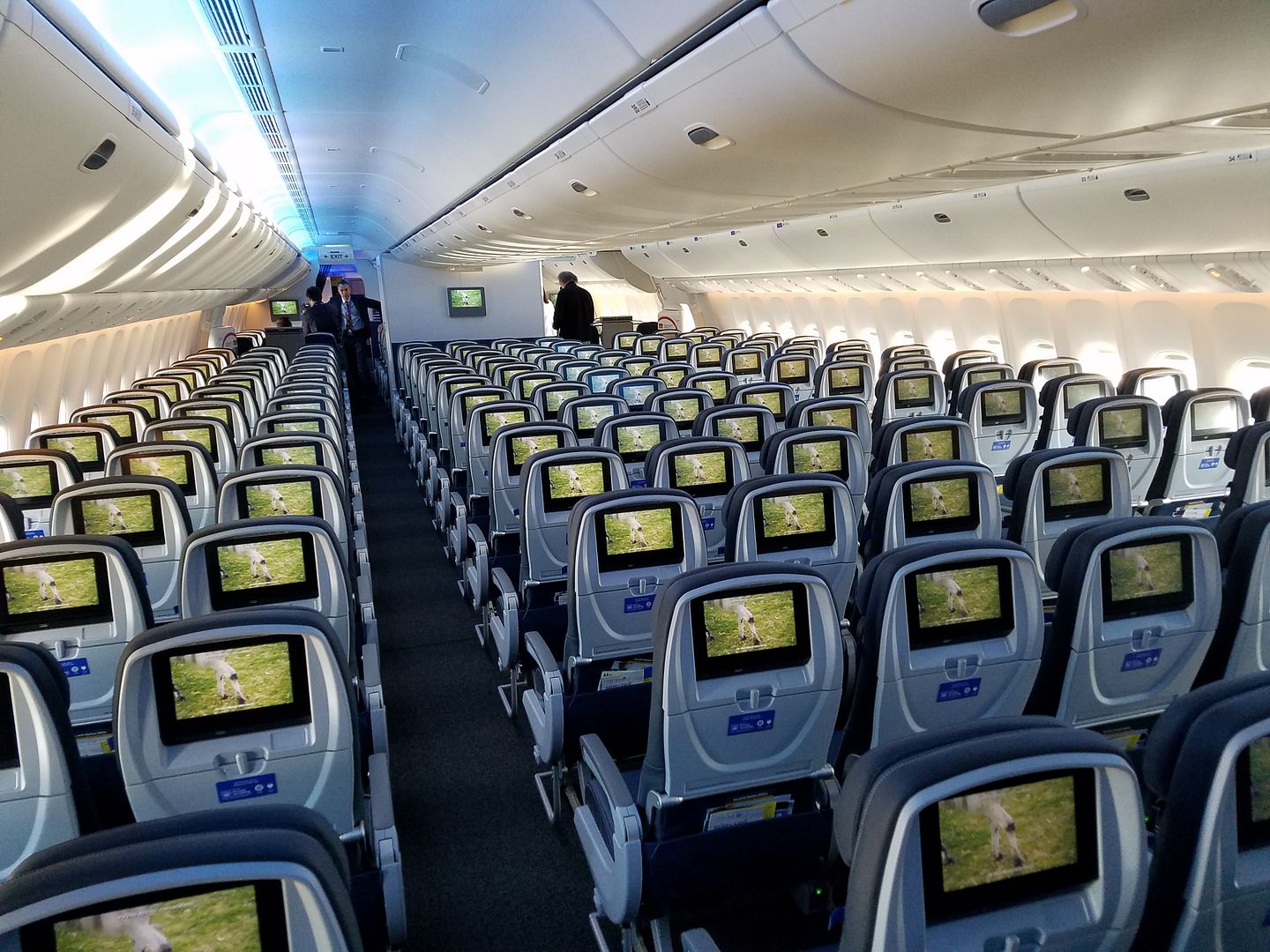 United Airlines 10-Across Boeing 777-300ER Coach Cabin
The potential to have empty planes, at a time when consumer preferences may be changing to place an emphasis on personal space, could really generate an opportunity for consumer loyalty. Once we're past the fear stage bring back 'middle seat blocking' at least for mid-tier elites combined with a good status matching campaign and promotion of the benefit and test so see whether or not there's share shift.
In the meantime, while fares are extra low, just buy the empty middle seat next to you.